WELCOME to Bacon County

Welcome to Alma and Bacon County, Georgia – a great place to live and an even greater place to do business. Location, infrastructure, and incentives are the building blocks of success for industry here!
Only 1 hour west of the Port of Brunswick, Georgia, 2 hours southwest of the Port of Savannah, and 4 hours south of Atlanta, Georgia
In the #1 state for business
Available, affordable buildings and developable sites
An educated workforce with a high work ethic
Ad valorem tax abatements on city, county and school taxes based on job creation and investment
Freeport exemption on work-in-process, raw materials, and finished goods
State-sponsored labor recruitment and training programs
Strong, local banking institutions for assistance in financing
Our business services and industry amenities mean nothing without a desirable quality of life to support it, and we have that, too. Alma-Bacon County is a friendly, inclusive community offering quality housing, fine educational opportunities, a wealth of outdoor recreation amid beautiful, natural surroundings, and high-quality healthcare from providers who care about each patient – because they are also their neighbors.
Business, industry, entrepreneurs, visitors, and families have chosen Bacon County, Georgia time after time. We invite you to explore on this website the pro-business environment, exceptional access, superior workforce, and overall quality of life that Alma-Bacon County, Georgia offers. Then, give us a call at 912-632-1800 to learn more about how your business, your employees, and your family can grow and prosper in Bacon County.
NEWS The latest in what's happening around the county
Naturipe Opens New Berry Processing Facility

Naturipe Farms LLC, a partnership between MBG Marketing, Hortifrut SA, Naturipe Berry Growers and Munger Farms, has opened the largest berry processing facility in the Southeastern United States in Alma, Georgia. "The Alma Facility will enhance our ability to quickly process berries for our growers in ... Learn More

La Regina Atlantica to Open First U.S. Processing Facility for Famous Tomato Sauce in Bacon County
Click Here To Read More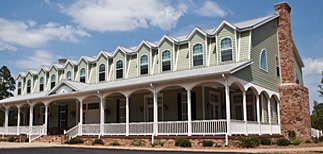 New CT Unit scores first "save"
New CT Unit at forefront of preventive medicine
Alma "School Spirit" combines history & progress